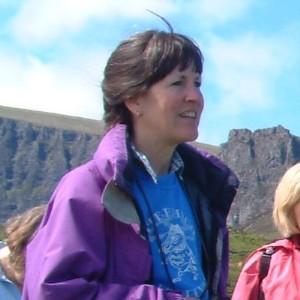 Deborah Moffatt was born and raised in Norwich, Vermont, USA. Her home was seven miles out of town on a dirt road that went nowhere. Trees and cows were her immediate neighbours. Apart from some time spent in cities while at university, she
has lived most of her life in a rural environment.
She attended The Putney School, (Putney Vermont), the University of Washington, (Seattle), and Boston University.
She has a Bachelor's degree in Spanish and Communications, and a Master's Degree in Public Relations.
While at university, she learned Middle Eastern dance, and performed for some years around Boston under the name Sa'ida.
She spent several years in Latin America, living in Argentina, Uruguay, and Mexico, where she worked as a journalist, ultimately becoming the Finance Editor at The News in Mexico City.
In 1982 Deborah travelled to Scotland, and soon settled there, having married a Scot. She now lives in Kingsbarns, a small village near St. Andrews, Fife. She has a demanding garden and a huffy cat.
In addition to writing, Deborah's main interest is music. She plays traditional Irish and Scottish music on fiddle and flute, as well as playing piano and guitar.
---